Back gear is a part of the customization possibilities of Shoot Many Robots. Back gear provides bonuses such as extra health, extra beers, more damage, and such.
List of back gear:
(Add names here please, I don't know the names, and I don't want to put wrong names on the wiki)
Related Links :
Edit
- Classic Black Tee - 1 Nut
Nothing but your trusty black t-shirt, vest, and infinite primary weapon ammo.
- Weekender's Backpack - 150 Nuts
Cut your toothbrush in half to make a little more room for ammo.
- My First Medic's Pack - 480 Nuts
Learn to work an IV and your beer goes lots farther.
- Baby Carrier - 1,170 Nuts
This year the robotcalypse coincides with Take Your Daughter to Work Day.
- Soldier's Backpack - 1,500 Nuts
Be 25% of an army of four. Hold more secondary weapon ammo and shoot better.
- Teeny Shark Fin - 5,330 Nuts
Baby sharks: kittens of the sea. (Slide: Air Slam: Disables Hangtime)
- "Howdy, Weasel" Backpack - 5,110 Nuts
Your momma packed you a license to kill with the crusts cut off.
Level 10:Edit
- Finally, A Jetpack - 780 Nuts
The future sure took its sweet time getting here, didn't it? (Air Hover)
Level 15:Edit
- Trail Guide's Rucksack - 1,180 Nuts
Granola is like robot vaccine in a plastic baggie.
- Exploding Barrel - 2,670 Nuts
Red is the international safety symbol for "shoot this before a baby crawls too close."

- Nut Sack - 8,420 Nuts
Preferred equipment of daring speed-runners. Get it? Equipment? As in genitalia?
- Limenitis Archippus Wings - 8,560 Nuts
Float like a butterfly, sting like a nut with a shotgun.
Level 20:Edit
- Miner's Pack - 1,820 Nuts
Subterranean demolitions knowledge allows you to spot robot weak points (they glow purple).
- Billy & Friends - 3,780 Nuts
You'll spare the Co-Optimus robots. Because they're lodged in your torso and awkward to shoot.
- Jetpack 2000 - 4,000 Nuts
Use it quick, before jetcars are invented and you have to wait on the skycurb. (Air Hover)
- E.V.A. Pack - 13,580 Nuts

On long spacewalks, this will recycle your pee into beer. (Air Glide)
- Faerie Wings - 13,650 Nuts
Clap your hands if you believe in fairies and want them to stop sucking the blood from your palms. (Air Hang, Slide)
Level 25:Edit
- Thru-Hiker's Pack - 3,250 Nuts
Like an RV with feet on the battom.
All Damage +27%
Health +30%
Healing Speed 2x
Speed -14%
Ammo +40%
- Too-Effective Camo Pack - 6,360 Nuts
Gold amblin tarnation son of a cheesenut, where is that thing?
All Damage +32%
Bullet Damage +58%
Ammo +40%
- Patriot Radio - 20,580 Nuts
Blasting beats like they were SCUD missles. (Slide)
- "Blowing' Up Man" Backpack - 22,350 Nuts
It ain't hard to learn to explode. What's hard is putting yer life back together.
All Damage +50%
Explosive Dmg +45%
Ammo +20%
Beers +1
Speed +35%
Jump Height +20%
Level 30:Edit
- Grizzled Medic's Pack - 4,840 Nuts

Hurts when you get shot by robots? Doc says don't do that.
- Futuristic Jetpack - 9,040 Nuts

From the folks that brought you "Warm Lava" and the "Handsome Moustache". (Float)
- Teeny Wings Of Evil - 29,080 Nuts

Cute does not always mean cuddley. (Air Special)
- Viking Shield - 33,110 Nuts

Fit for a king. For instance, Olaf II ("The Stout") of Norway, 995-1030 CE. (Air Hang)
Level 35:Edit
- Finer Miner's Pack - 6,770 Nuts

Canaries are good for testing if a chopper's chainsaw has dulled.
- Boombox - 14,690 Nuts
You unboxed countless fridges to perfect the double lotus hollow munchmill.
All Damage +64%
Slide Rating 7
Slide Speed Slow

- Priamus Poseidon Wings - 50,710 Nuts
What you truly love can never be preserved and pinned for display, if what you love is blowing shit up.
Healing Delay -3 seconds.
Level 40:Edit
Paratrooper Pack Edit
Tragically, it looks just like the one that holds the parachute.
Nuts: 21,570
All Damage: +75%
Bullet Damage: +140%
Ammo: +40%
---
Reduced Emissions JetpackEdit
Even so, if everyone used a jetpack like you, it would take 728 earths to support us. (S to hang!)
Nuts: 41,640
All Damage: +88%
Explosive Damage: +73%
Hangtime Rating: 8
Guilt -2%
---
"Read or Perish" PackEdit
Test scores are up 28% under the robot overlord. (S to hang, S to slide, X to slam!)
Nuts: 141,470
All Damage: +139%
Ammo: +20%
Beers: +1
Hangtime Rating: 6
Slam Power: 6
Slide Rating: 6
Level 45:Edit
Paging Doctor BackpackEdit
Taking on the robot army is foolhardly but necessary. It requires great beeresponsibility.
Nuts: 46,140
All Damage: +102%
Health: +40%
Healing Speed: 2x
Healing Delay: -2 seconds
Beer Power: +50%
---
Gary the GnomeEdit
His entire race trapped in terracotta centuries ago, Gary misses square dancing.
Nuts: 83,050
All Damage: +120%
Explosive Damage: +229%
Crit Chance: +80%
---
Danaus Plexippus WingsEdit
You're emerged from your cocoon a beatiful powerhouse of destruction.
Nuts: 274,460
All Damage: +188%
Hangtime Rating: 9
Healing Speed: 2x
Healing Delay: -3 seconds
Level 49:Edit
Major Miner's PackEdit
In a pinch, a pickaxe makes a workable letter T
Nuts: 57,580
All Damage: +136%
Explosive Damage: +272%
Ammo: +60%
---
Bad Idea JetpackEdit
More bootleg than Grampy's gin and twice as likely to leave you crying in a roadside ditch.
Nuts: 124,460
All Damage: +160%
Explosive Damage: +175%
Hangtime Rating: 10
---
Now You're A SharkEdit
The moon is only safe from sharks because sharks don't like jumping. (X to slam, S to slide!)
Nuts: 423,290
All Damage: +252%
Hangtime: DISABLED!
Slide Rating: 10
Slam Power: 10
Gravity: +100%
Piercing: x2
Level 50:Edit
Gary The Undead GnomeEdit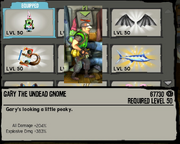 Gary's looking a little peaky.
67,730 Nuts
All Damage +204%
Explosive Dmg +383%
---
Santa's Golden JetpackEdit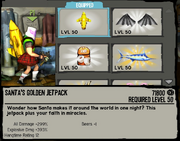 Wonder how Santa makes it around the world in one night? This jetpack plus your faith in miracles.
71,800 Nuts
All Damage +299%
Explosive Dmg +393%
Hangtime Rating 12
Beers +1
---
Demon WingsEdit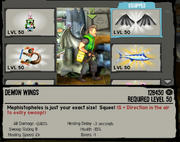 Mephistopheies is just your exact size! Squee! (S + Direction in the air to evily swoop!)
128,450 Nuts
All Damage +240%
Swoop Raiting 11
Healing Speed 2x
Healing Delay -3 seconds
Health -15%
Beers +1
---
Freedom Jamz BoomboxEdit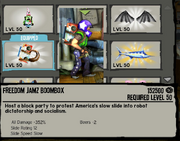 Host a block party to protest America's slow slide into robot dictatorship and socialism.
152,500 Nuts
All damage +352%
Slide Rating 12
Slide Speed Slow
Beers +2
---
"Shoot Many Robots" PackEdit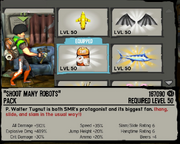 P. Walter Tugnut is both SMR's protagonist and its biggest fan. (hang, slide, and slam in the usual way!)
167,090 Nuts
All Damage +510%
Explosive Dmg +489%
Crit Damage +30%
Speed +35%
Jump Height +20%
Ammo +20%
Slam/Slide Rating 6
Hangtime Rating 6
Beers +4
---
Blue MarlinEdit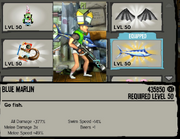 Go Fish.
435,850 Nuts
All damge +377%
Melee Damage 3x
Melee Speed +49%
Swim Speed +14%
Beers +1
---
Palos Verdes Blue WingsEdit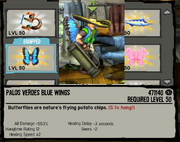 Butterflies are nature's flying potato chips. (S to hang!)
471,140 Nuts
All Damage +553%
Hangtime Rating 12
Fucking speed x2
Healing Delay -3 seconds
Beers +2
---
Scotsman's PipesEdit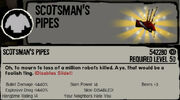 Oh, to mourn te loss of a million robots killed. Aye, that would be a foolish ting. (Disables Slide!)
542,280 Nuts
Bullet Damage +1440%
Explosive Damage +1440%
Hangtime Rating 14
Slam Power 14
Slide DISABLED!
Your Neighbors Hate You
Beers +3
---
Princess WingsEdit
Somewhere beyond the toadstool circles, under a wild moon, two fairies fly eternally in chiral circles.
544,990 Nuts
Bullet Damage +1440%
Explosive Dmg +1440%
Hangtime Rating 14
Slide Rating 14
Slam Damage DISABLED!
Glitter Capacity +20%
Beers +3
---
Lifeguard SharkfinEdit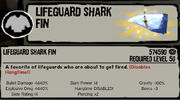 A favorite of lifeguards who are about to get fired. (Disables Hangtime!)
574,590 Nuts
Bullet Damage +1440%
Explosive Dmg +1440%
Slide Rating 14
Slam Power 14
Hangtime DISABLED!
Piercing x2
Gravity +100%
Beers +3
---