Head gear is a part of the customization options of Shoot many robots, and (obviously) worn on the head. Most of headgear features special bonuses, such as extra beers, an ability to slam, extra health, and many more.
Related Links :
Edit
- Scorcher
Dmg/Grenade Awesome
Accuracy Good
Go Boom? Absolutely
Ammo 24
- Piculet SMG
Damage/Second 12-35
Accuracy Medium
Burst 3

- Impending Baldness - 1 Nut
Hopefully the reflection off your scalp will blind some robots.
- Classic Black Tee
Nothing but your trusty black t-shirt, vest, and infinite primary weapon ammo.
- Trusty Pants​​
Your lucky jeans. (RT while running to slide! Gear with a higher slide
rating lets you slide faster and farther.)
- Dr. Freeman's Glasses - 1 Nut
Talk to me about Einstein-Podolsky-Rosen entanglement, baby.
All Damage Scales with Level
- 9-Gallon Hat - 50 Nuts
Add a gallon of your hopes and dreams and this hat will be complete.
- Farmtown Redhelmets Helmet - 440 Nuts
Protect your head from dangerous falling things -- like you. (Slam)
- Coonskin Cap - 1,280 Nuts
True fact: Daniel Boone actually wore felt. But his crit chance stunk.
- Miner's Helmet - 760 Nuts
Not that effective since mole-people attack from below. (Slam)
- A Paper Bag - 1,540 Nuts
You can't fear what you can't see.
- Uncomfortable Beanie - 4,960 Nuts
This model was recalled after too many babies violated restricted airspace. (Air Hang)
- Powdered Wig - 5,430 Nuts
No lie: Washington cut the cherry tree so it'd fall on a robot.
- Beer Hat - 1,540 Nuts
Alcohol where it belongs: as close to your brain as possible.
Level 12:Edit
- Fruit Fucker - 2,460 Nuts
Into produce. And your skull. You didn't plan for the skull bit when you ordered the thing.
- Mark 0 Chopper Hat - 2,580 Nuts
Bad things happen when wifi chainsaws download puppy photos in thunderstorms. (Slam)
- Hermes Hat - 8,820 Nuts
It's plastic, but actually, so is Hermes' real-life helmet. His just looks cool because of god magic.

- Doughboy Helmet - 1,300 Nuts
Take up our quarrel with the bots: / To you from failing hands we toss / A head-slot item.
All Damage +10%
Bullet Damage +17%
Ammo +20%
Level 17:Edit
- Teeny Firefighter's Helmet - 12,500 Nuts
Adorable on mutiple levels. (Slam)

- Astronaut's Helmet - 13,990 Nuts
Insert one of Yuri typical corny Gagarins here. (Slam)
Level 22:Edit
- Finer Miner's Helmet - 3,120 Nuts
Mole-people were banished from the surface for being cuter than naked mole-rat people.
- Scary Goaltender Mask - 6,210 Nuts
Your clothes should make a statement. This says grraaaagh

- Gas Mask - 20,650 Nuts
Be honest: you're not worried about chemical weapons. You're just in a creepy mood.
- Souvenir Tam O'Shanter - 22,310 Nuts

Don't feel badly: even robots can't pronounce Edinburgh correctly. (Disables Slide)
Slam Power 5, Slide DISABLED
Level 27:Edit
- MK II Brodie Helmet - 4,520 Nuts
Dulce et decorum est pro patria mori. ("Here's a sweetly decorated hat for your uncle Morrie.")
- Mark 2 Chopper Hat - 8,980 Nuts
Reduce the robot horde, reuse their corpses, recycle jokes.
All Damage +46%
Melee Damage x2
Slam Power 6
- Junior Stuntman's Helmet - 29,740 Nuts
"Hold my beer. Check this out.": Some stunt artists' last words. Walter's first ones. (Slam)
- Viking Helmet - 30,950 Nuts
It ain't over till you sing. I'Kill da Wobots, kill da wobots. (Slam)
Speed -7%
Melee Speed +21%
Melee Damage x2
Level 30:Edit
- King Normal's Crown - 10 Nuts
You are better than everyone who hasn't beaten Normal mode!
All Damage +139%
Hangtime Rating 7
Slam Power 7
Slide Rating 7
Level 32:Edit
Real Purty Cowboy HatEdit
1885 called.'They said, "Nice Hat."
Nuts: 6,780
All Damage +55%
Health +80%
Mr. DestructoidEdit
Your disguise isn't cunning enough to fool robots, but they are a smidgeon more polite.
Nuts: 13,750
All Damage +64%
Dmg Reduction -17%
Mild Sombrero Edit
It's like tomato sauce for your head. That's a simile, the tomato sauce of literature.
Nuts: 13,810
All Damage +64%
Health +40%
Crit Chance +60%
Cavalier HatEdit
You're like a one-man Three Musketeers. "One for one," ect.
Nuts: 14,220
All Damage +64%
Speed +28%
Melee Speed +21%
Jump Height +20%
Revived Health Doubled
Fencing +18%
Propeller BeanieEdit
A fight sequence above you between tiny people could end ugly. (S in the air to hang!)
Nuts: 45,030
All Damage +101%
Gravity -30%
Jump Height +10%
Hangtime enabled
Hangtime Rating 6
Level 37:Edit
Major Miner's HelmetEdit
The mole-people orchestra is all trombones. (X in the air to slam!)
Nuts: 20,150
All Damage +75%
Stuntboy's HelmetEdit
Stuntman's log, dangerdate 33780: jumped sidewalk crack, rescued mom. (X to slam!)
Nuts: 42580
All Damage +88%
Slam Power 8
Health +30%
Beer Power +50%
A Different Paper BagEdit
Milk? Check. Eggs? Check. Your head? Check.
Nuts: 137,000
Bullet Damage +425%
Explosive Dmg +425%
Accuracy -Real bad
Level 42:Edit
MK III Turtle HelmetEdit
Inscribed: "Ils ne passeront pas, les balrogs!"
Nuts: 46,170
All Damage +102%
Nuts: 86,100
All Damage +120%
Mark 3 Chopper HatEdit
Reduce robot horde, reuse their corpses, recycle jokes. (X to slam!)
Nuts: 89,480
All Damage +120%
Melee Damage x2
Slam Power 9
Standard Diving DressEdit
Your little sister would have loved this. *single tear* (X to slam!)
Nuts: 302,040
Bullet Damage +404%
Explosive Dmg +404%
Speed -21%
Gravity -50%
Slam Power 9
Hangtime Rating 9
Melee Damage x3
Melee Knockback +100%
Level 45:Edit
Edward 40-HatEdit
Emperor Hard's LaurelsEdit
Make room on your resume: you beat Hard mode!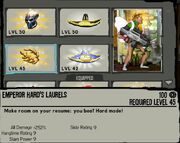 Level 47:Edit
"Quatro" Beer HatEdit
Three cheers for four beers.
Nuts: 61,140
All Damage +136%
Beers +4
Zen Stuntman's HelmetEdit
Any jump takes the motorcycle through when the flaming ring has burned away. (X to slam!)
Nuts: 125,690
All Damage +160%
Health +50%
Slam Power 10
Beer Power +50%
Firefighter's HelmetEdit
Hunky. (X in the air to slam!)
Nuts: 433,180
All Damage +252%
Slam Power 10
Crit Damage +90%
Level 50:Edit
Skullface Insane's Flamehead Edit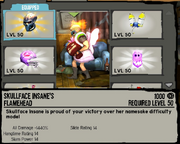 Skullface Insane is proud of your victory over her namesake difficulty mode!
1,000 Nuts
All Damage +1440%
Hangtime Rating 14
Slam Power 14
Slide Rating 14
---
Extra Chunky SombreroEdit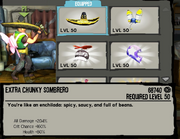 You're like an enchilada: spicy, saucy, and full of beans.
68,740 Nuts
All Damage +204%
Crit Chance +160%
Health +80%
---
Edward 40-HatEdit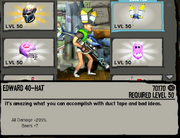 It's amazing what you can accomplish with duct tape and bad ideas.
70,170 Nuts
All Damage +299%
Beers +7
---
Porphyrophiles HelmetEdit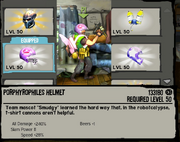 Team mascot "Smudgy" learned the hard way that, in the robotcalypse, t-shirt cannons aren't helpful.
133,180 Nuts
All Damage +240%
Slam Power 11
Speed +28%
Beers +1
---
Demiurge BeanieEdit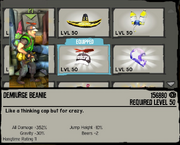 Like a thinking cap but for crazy.
156,880 Nuts
All Damage +352%
Gravity -30%
Hangtime Rating 11
Jump Height +10%
Beers +2
---
Superstar Stunt HelmetEdit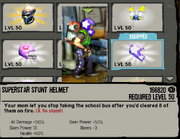 Your mom let you stop taking the school bus after you'd cleared 8 of them on fire.
166,820 Nuts
All damage +510%
Slam Power 13
Health +60%
Beer Power +50%
Beers +3
---
Happy Demon BagEdit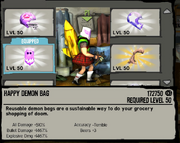 Reusable demon bags are a sustainable way to do your grocery shopping of doom.
172,750 Nuts
All Damage +510%
Bullet Damage +1467%
Explosive Dmg +1467%
Accuracy -Terrible
Beers +3
---
Pink Hair PickEdit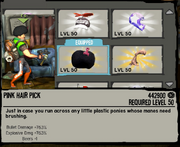 Just in case you run across any little plastic ponies whose manes need brushing
442,900 Nuts
Bullet Damage +763%
Explosive Damage +763%
Beers +1
---
Jersey PoufEdit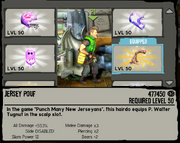 In the game "Punch Many New Jerseyans", this hairdo equips P. Walter Tugnut in the scalp slot.
477,450 Nuts
All damage +553%
Slide DISABLED!
Slam Power 12
Melee Damage x3
Piercing x2
Beers +2
---
Authentic Scotsman's HatEdit
Flying Scotsmen are less spooky than Dutchmen; it's probably the plaid.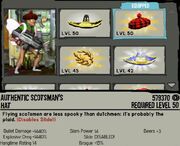 579,370 Nuts
Bullet Damage +1440%
Explosive Damage +1440%
Hangtime Rating 14
Slam Power 14
Slide DISABLED!
Brogue +15%
Beers +3
---
Princess TiaraEdit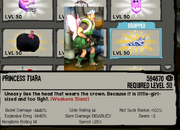 Uneasy lies the head that wears the crown. Because it is little-girl-sized and too tight.
584,670 Nuts
Bullet Damage +1440%
Explosive Damage +1440%
Hangtime Rating 14
Slide Rating 14
Slam Damage DISABLED!
Speed +35%
Nut Suck Radius +100%B
Beers +3
---
Lifeguard SnorkelEdit
Waiting for me to teach you how to use a snorkel? Don't hold your breath.
595,870 Nuts
Bullet Damage +1440%
Explosive Damage +1440%
Slide Rating 14
Slam Power 14
Hangtime DISABLED!
Rhymes with sporkle
Beers +3
---